Peggy Fortnum - Illustrator B. 1919 D. 2016 aged 96 years
Fortnum was the first illustrator to pair with the late children's author, Michael Bond to illustrate his famous Paddington Bear stories

Margaret Emily Noel "Peggy" Fortnum
was born in London in 1919. The youngest of six children. Fortnum was interested in painting and drawing from a young age. She attended St Margaret's school, Harrow on the Hill, and then enrolled at Tunbridge Wells School of Art in 1939. Wartime interrupted her training, but eventually Fortnum did return to art school, this time she attended the Central School of Art, London and found her distinctive style. Fortnum enjoyed regular work and ongoing success, producing illustrative work commissioned by many others aside from Bond and his publishers of Paddington for many years.

The first volume of Paddington Bear stories were published over a 10 year span:
Illustrator Peggy Fortnum's drawing of Mr Brown and Paddington based on this original family photograph you see above - Image Source BBC Radio's Last Word www.bbc.co.uk

Fortnum contributed hugely in presenting Paddington Bear, and the Browns' and their London base so visually, and so charmingly, in non-fussy black and white (pen and ink) line drawings.
Young children of the sixties came to love the stories of the marmalade-loving bear from darkest Peru.
Fortnum took turns with others including Fred
Banbery (from 1972) to continually illustrate
Ivor Wood developed a cartoon version of Paddington from 1975 for TV and for comic strips published in the London Evening Standard. In the eighties, David McGee took over the mantle for Picture book illustrating new stories by Bond geared for young readers.
Barry Macey was the in-house artist with Paddington & Co Ltd and his works appears on related merchandising and anything Paddington Bear themed at the time. With the stories being re-illustrated by RW (Bob) Alley since the 1990's.
In 1998 the books were relaunched in celebratory 40th birthday editions using Fortnum's original illustrations.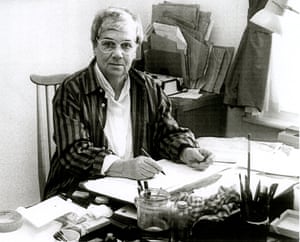 Peggy Fortnum at work in the 1980's
Photograph: The Guardian (who obtained by permission of Essex County Newspapers)

The BAFTA winning film from StudioCanal held the No.1 spot at the UK box office in December 2014 so proved to have wide appeal for young and old(er)
Paddington 2 is in UK cinemas from November 10th. See official first look trailer
Because Paddington is set to star in this second movie, The puzzle box picture (see below) depicts a colourful portrait of Paddington and the design by Paddington and Company Ltd., I think it shows off perfectly this wonderful and well-loved little storybook character, who has such history and affection attached to him